Friday, February 18, 2011
Deprecated
: Non-static method StringParser_Node::destroyNode() should not be called statically, assuming $this from incompatible context in
/www/htdocs/v026645/blog/fp-plugins/bbcode/inc/stringparser.class.php
on line
358
Deprecated
: preg_replace(): The /e modifier is deprecated, use preg_replace_callback instead in
/www/htdocs/v026645/blog/fp-includes/core/core.wp-formatting.php
on line
102
Zusammenfassend: sehr, sehr schlecht, richtig schlecht, ach was sag ich - grausam!
Also es mag durchaus sein, dass die Asien Perle mal vor Jahren ein gutes Buffet geboten hat, diese Zeiten sind jedoch definitiv vorbei. Wir waren am letzten Samstag dort (Preis fürs Buffet 11,90) und nach unserer Ansicht wars keine 1,90 wert.
Beginnen wir bei der Auswahl: winzig, außer 8 verschiedenen frittierten Speisen (Ente, Huhn im Mantel, Reis im Mantel, Fisch im Mantel, Tintenfisch im Mantel, Frühlingsrollen) gab es nichts warmes, weder chinesisch noch sonst was, nichts mit Soße, nichts mit Tofu, null Gemüse, einfach NIX.
Dann weiter zum Geschmack: die erwähnten frittierten Häppchen (oder eher gesagt deren Reste) lagen bereits lauwarm bis kalt dort als wir um 12:30 das Restaurant betraten und wurden bis 14:00 Uhr kein einziges Mal(!!!) aufgefüllt. Bei der Ente war es am schlimmsten, es gab einzig eine Handvoll ausgetrockneter Hautreste, die bereits dermaßen hart waren, dass sie jeder Schweinebratenkruste Konkurrenz gemacht hätten.
Fazit: Nie wieder! Never again!
Monday, July 5, 2010
Deprecated
: Non-static method StringParser_Node::destroyNode() should not be called statically, assuming $this from incompatible context in
/www/htdocs/v026645/blog/fp-plugins/bbcode/inc/stringparser.class.php
on line
358
Deprecated
: preg_replace(): The /e modifier is deprecated, use preg_replace_callback instead in
/www/htdocs/v026645/blog/fp-includes/core/core.wp-formatting.php
on line
102
Bei einem Besuch in Istanbul solle man unbedingt einmal eine Fischsemmel von einem der Grillboote nahe der Galatabrücke zu sich nehmen. Frischer und billiger bekommt man den Fisch fast nirgends in Istanbul - ein sättigendes und nahrhaftes Vergnügen.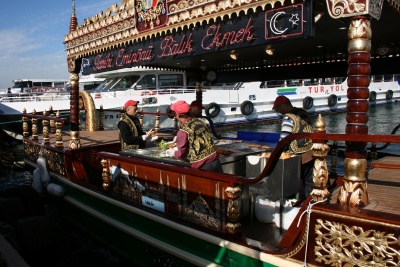 Die bunt geschmückten Grillboote ankern nahe der Galatabrücke im Stadtteil Eminönü und verkaufen den gegrillten Fisch im Sekundentakt. Einfach in der Schlange anstellen und auf das gewünschte zeigen, das klappt auch prima ohne Türkischkenntnisse. Wer will bekommt auch noch grünen Salat und Zwiebeln auf seinen Fischburger.